Protect the life and income you've worked for
From mortgage payments to groceries and beyond, your income pays for the necessities in life. That's why protecting it is so important. Individual Disability Income (DI) insurance helps cover you when the unexpected happens.
Here's how it works
DI insurance provides monthly benefits that replaces a portion of your income if you become too sick or hurt to work. And while none of us envisions that happening, we can't predict what the future will bring. Here are some common reasons people become disabled: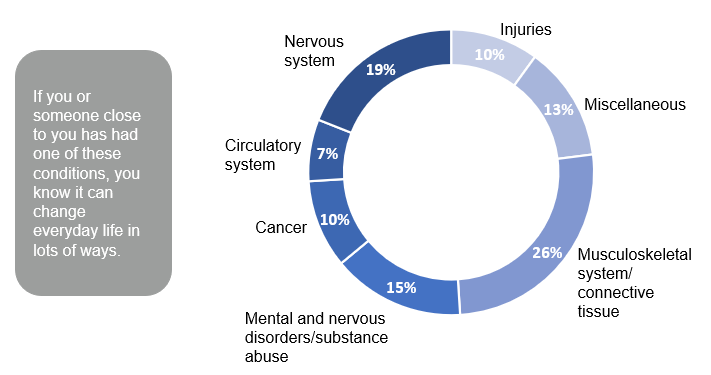 Source: Principal Life disability insurance active claims as of July 2020. The above is for illustration purposes only and is not intended as a complete representation of the circumstances surrounding the claims, an inclusive representation of all claims, or a promise to pay any specific claims.
You've got this
Having DI coverage helps put you in the driver's seat on a path toward securing your financial foundation.
Let's connect - Contact us today!
Insurance products issued by Principal Life Insurance Company®, a member of the Principal Financial Group®, Des Moines, IA 50392.Disability insurance has exclusions and limitations. For costs and coverage details, contact your Principal representative. Not approved for use in New Mexico or Oregon.
Principal®, Principal Financial Group®, and Principal and the logomark design are registered trademarks of Principal Financial Services, Inc., a Principal Financial Group company, in the United States and are trademarks and service marks of Principal Financial Services, Inc., in various countries around the world
JJ1274-08 | 10/2022 | © 2016-2022 Principal Financial Services, Inc.